Family Retreat on Lake Superior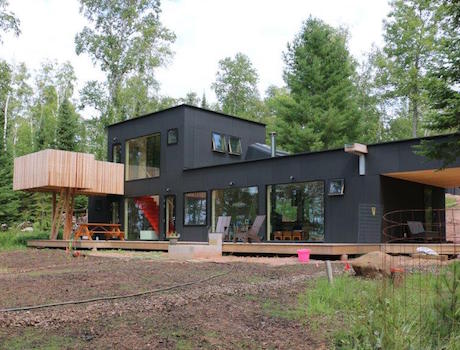 Beautiful Views Require Beautiful Windows
Rice Lake Glass completed custom glass installation for a modern architecturally designed home on the shores of Lake Superior. 
On a west-facing shore of Lake Superior, this beautiful retreat was designed to be nearly maintenance-free, while providing direct views of the lake and surrounding forests. The owner and architect required the products Rice Lake Glass used contained energy-efficient properties and beautiful style. A steep hill along the lake and an aggressive schedule made this a difficult site to work on.
Beautiful Custom Home
The architect and owners of a beautifully designed home requested the best custom windows we could recommend. We installed H Windows, that was custom made in Wisconsin for this project.
Window Maintenance Required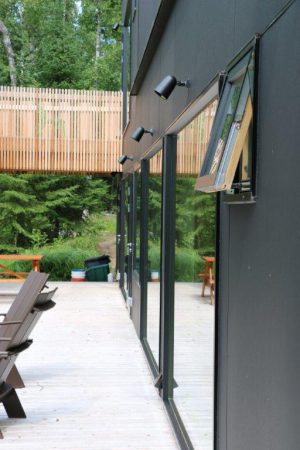 Custom H Windows
The owner and architect on this project requested windows that contained specific energy efficient properties, while also looking beautiful and elegant.
As commercial glass contractors, Rice Lake Glass knew H Windows would be a great product to use at the Lake Superior Family Retreat. This brand of windows showcases the beauty and warmth of wood while providing strength, weather resistance, and durability. H Windows seal tighter than their competitors, scoring better on 50 mph air filtration tests than most windows will at 25 mph.
"Thank you for the great work that your company did at our school. Your staff was personable, professional and courteous. I could not have asked for more."
- Kent M. Kindschy, BS, MS, EdS
Superintendent, Turtle Lake School District

Maintenance Requests
Isn't it easier to serve your customers and get through the day when the work on your window replacement or door is scheduled, rather than a surprise emergency? Rice Lake Glass will perform inspections, maintenance, and routine door or window repairs regularly.
PLAN FOR MAINTENANCE
Custom Services
Are you looking for help with a unique project? Rice Lake Glass is known for our work with large scale projects or with big companies, but we are also skilled in smaller and unique projects that fit your needs.
CUSTOM REQUESTS
Want your project to run smoothly?
Get your glass from RLG!