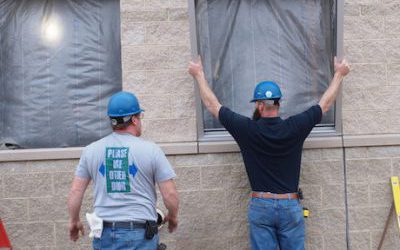 2014 has been an exceptionally busy year for the team at Rice Lake Glass & Door Co., Inc.  We are equally thankful and proud of our dedicated staff of superb employees who take service calls, follow up with vendors to assure timely deliveries, and keep the day to day responsibilities well handled at the office.  Our team also does a great job communicating with owners, contractors, and individuals from various construction backgrounds.
Our service technicians and field crews understand that quality comes first and a satisfied customer is the key to our success as a company.  Maintaining high standards is a very important part of the culture at Rice Lake Glass & Door Co., Inc.  The shop and fabricating crew also adheres to this culture when they produce accurate precision quality doors and windows, complete parts for installations, and create innovative styles.
Rice Lake Glass & Door Co., Inc. has been invited to complete projects all over the United States and it's a credit to the talented and hard-working team.  On this Labor Day we wish to salute and express our gratitude to the exceptional individuals who choose day after day to bring their best to Rice Lake Glass & Door Co., Inc.